Cannibals, Book IV- DIRECTORY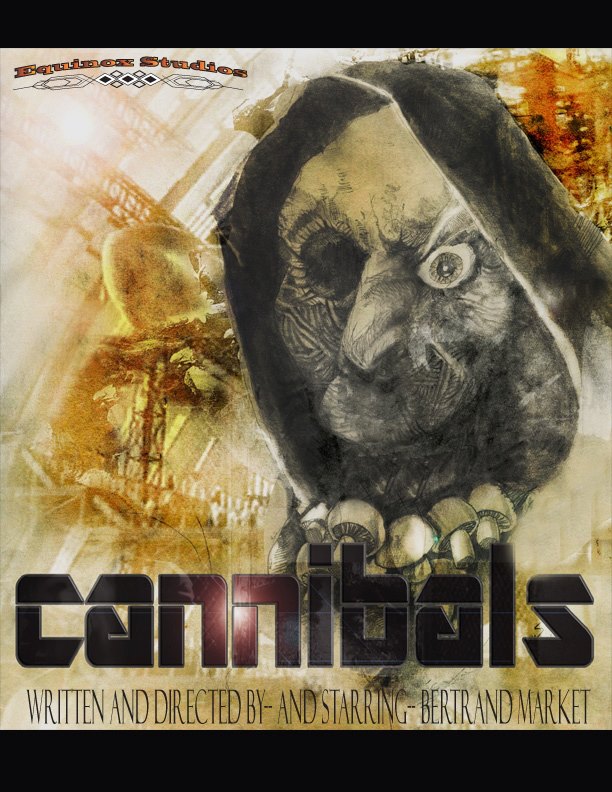 Zeke Ringo spent years pursing various theories about the film Cannibals. He found a subculture immersed in its myth. There were obsessive collectors, trivia experts, cultists, priests of a pseudo religion, pushers who bartered artifacts of the film and relics of the historical characters who inspired it. There were artisans ready to reinterpret it, and fundamentalists who insisted that no portion of the authentic fragments be altered in any way, though great controversies raged over which fragments were authentic. Scholars and dilettantes argued points of continuity. Some accepted the story as Art. For others, it represented a literal truth. Others strained themselves to believe, hoping that magic would flow from the act of acquiring faith. Some believed that the Knight of Ten Thousand Years would bring about Judgment Day and the full resurrection of all who ever lived.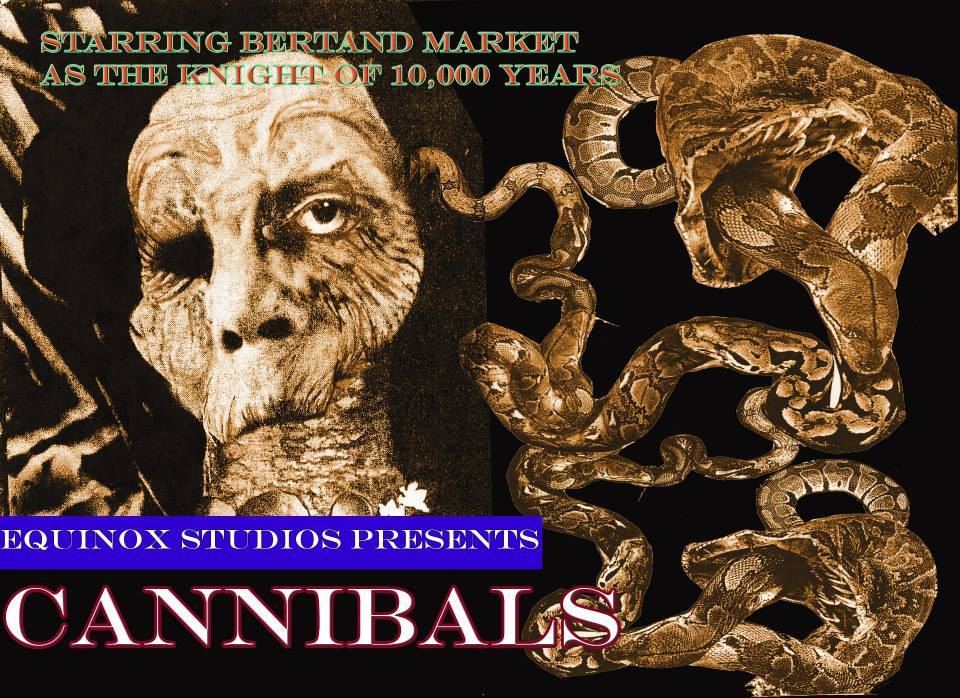 Ringo died pursuing the myth. He had gone so far as to link himself neurologically into the DreamMage machine, to partake in whatever dreams, visions and versions of Cannibals the device had to offer. The machine held vast reservoirs of strange information—parts of it were inscribed in binary code and parts of it pulsed through living tissue as neurosynapses. Ringo found the bookkeeping accounts of a criminal empire known as the Silent Cannibals: ledger entries of debt, receivables, vendettas, and logs of hit victims. These appeared along side of more recent data, the partly erased and overwritten memories of cancer patients and their miraculous cures, and whole banks of information stored in comic book form. Ringo didn't know what to make of the comic books lurking within the machine's memories. At first he thought them a wild jest, or a blind for a complex code, though he would later learn that the gang had sponsored an ill-fated comic book publishing venture, including some of the earliest computer generated comics. Still, this would not explain bizarre comic book renderings within these stores that were accurate accounts of his own affairs. He wondered if some wayward program or malevolent wizardry was playing a prank.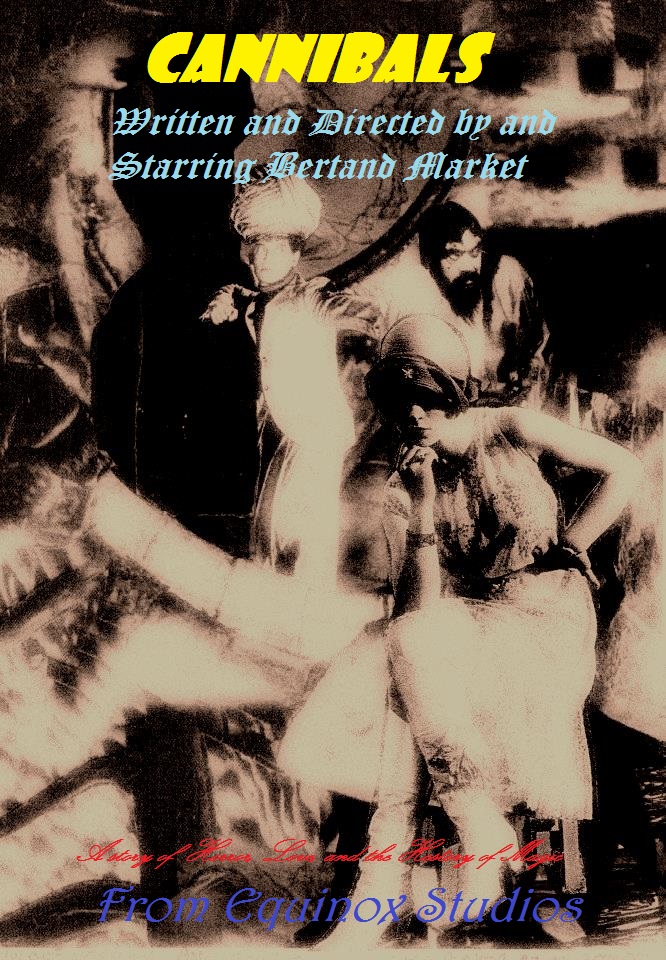 He claimed to have been searching for whatever hidden flaw within the machine caused some of its users to spontaneously combust. Whatever the flaw was, he found it, for while he was linked in, he himself spontaneously combusted. Perhaps the ghost of Bertrand Market haunted the organic hard drive. Perhaps the machine burned him alive with its dark visions. Or perhaps, as many have suggested, Zeke Ringo fulfilled the destiny prophesied in the Via Intermina: he attained god-like powers and brought about the actual manifestation of Heaven into reality, his personal Valkynne.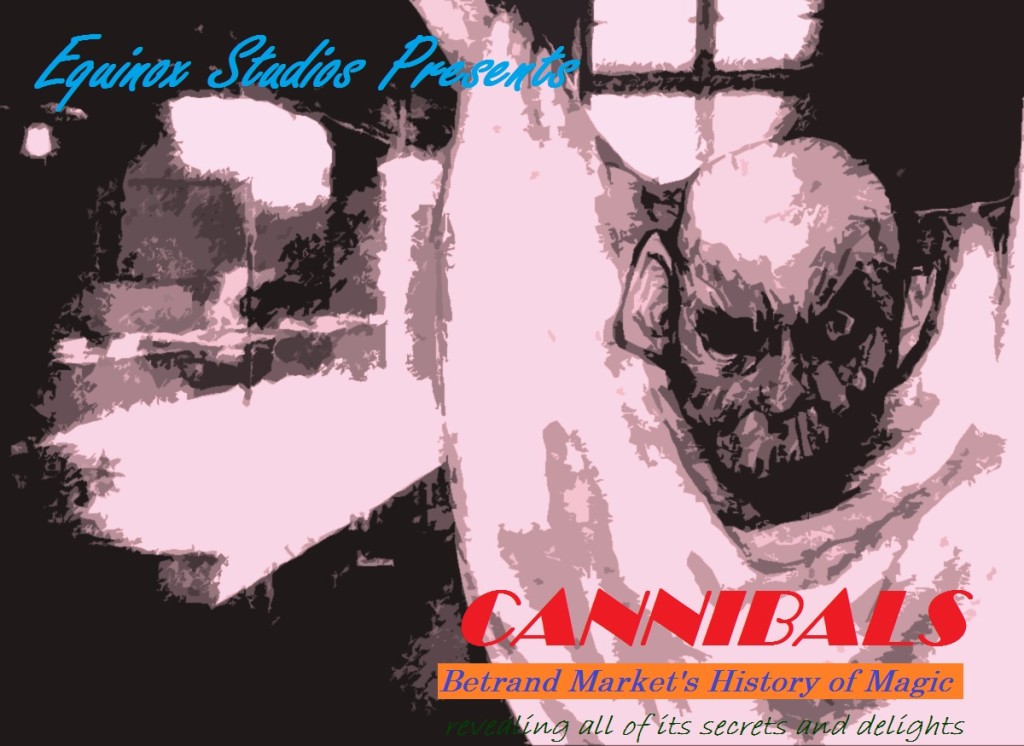 All Xyr scholars agree that Segments One through Three should be read in consecutive order, prior to reading the alternate versions.
Leslie Blake (1950-?)
Leslie ("Lez") Blake used Squad Zero, the comic book series he authored and illustrated, as a forum to solicit information about the movie Cannibals, running a series of advertisements that entreated his readers to conduct their own research and mail in the results. He would give away autographed original artwork as a reward. In 1986, Blake mysteriously disappeared. Many think his inquiries into the movie placed him in jeopardy. His ad campaign did yield a wealth of information, all of which Zeke Ringo purchased at an estate sale.
In 1988, the Knight of Ten Thousand Years reappeared, this time as a secondary character in a comic book, Delta-Wave, based on the journals of Pauli Newton. The publisher, Cannibal Silents, claimed to be the corporate heirs of Equinox Studios (and may be a corporate ancestor of DreaMage). The company, with its distinct theatrical mask logo, made no secret of its affiliation with the notable criminal empire of a similar name whose enterprises were exposed in this very work itself. Though this was part of the gang's modus operandi, in this instance they clearly went too far.
No one contested displays of the character of the Knight of Ten Thousand Years, for whom the copyrights and trademarks had expired. It may have been a ploy to attract fans of the works of Leslie Blake, exploiting the association he created himself through the ads he posted in the pages of his Squad Zero title. The covers in particular, and even some of the interior panels (which display the marks of many hands), bear an unmistakable resemblance to Blake's later style. Either Blake was an actual contributor, or he was no longer around to protest. This veiled suggestion of the involvement of a mysteriously vanished creator made the series seem like something delivered out of the afterlife.
The company packaged Delta-Wave as a factual account, following the presentation of Blake's Squad Zero. They mounted an unorthodox marketing campaign for all of their comic book titles that proffered a novel theory about the comic book medium: that the stories provide a direct link to mystic experience through the combination of words and pictures, like ancient hieroglyphs that reveal a higher reality.
The unholy alliance of computers, iconic imagery, and stories about people with god-like powers, all purporting to be true– and all boasted to be the product of a criminal enterprise– proved to be simply too much. It inspired a right wing backlash against the comic book medium unseen since the heyday of Dr. Frederick Wertham. The creators of Delta-Wave had encroached into the domain of religion, and were branded a dangerous cult. The print-run, small to begin with, vanished in a frenzy of bonfires, so much like Cannibals before it.
LESLIE BLAKE VERSION:
SEGMENT:
22
23
24
21
16
Vera DeNada. (date of birth unknown, date of death uncertain) Famous for teaching emptiness meditation techniques during the late 2040's and early '50's. Widely considered to be the world's leading authority on Nothing. Author of over 55 books; including novels, poetry, critical studies, and histories– all of them blank.
VERA DENADA VERSION:
SEGMENT:
22
23
24
11
Francesco Noogin. (1900-2050 )
Wizard, thief, warrior, lover.
FRANCESCO NOOGIN VERSION:
SEGMENT: PAGE:
4
5
6
7
8
9
10
14
15
Arthur Vertinsky. (Date of Birth: Unknown. Present whereabouts: Unknown) An extensive amount of Xyr research had been done by one Arthur Vertinsky. His work was found by Zeke Ringo among various documents and records belonging to the DreaMage Corporation. Although a preoccupation with dream states and illusions mars much of his writing, along with a proclivity for repetition, the shadowy Vertinsky remains the most popular of Xyr scholars. Annually, universities all over America are besieged with applications for faculty appointment from persons claiming to be Arthur Vertinsky.
ARTHUR VERTINSKY VERSION:
SEGMENT:
22
23
24
13
20
13
20
(LAST TWO SEQUENCES REPEAT ENDLESSLY)
Faith Aurello. (1975- 2020) Author of over 350 romance novels, and Xyr, Apostle of Xyr. (Gallowford University Press, 2015). Professor Emeritus of Romance Languages, Dwayne Cartland Chair, Gallowford University. The proverbial absent minded professor, Faith Aurello failed to look up from her readings of Xyr's History of the Magi, and slipped on an eraser while crossing the Gallowford Library. She broke her neck in the fall. Some find the event ironic. Others claim find the coincidence too great, and point to foul play of a supernatural nature.
FAITH AURELLO VERSION:
SEGMENT:
9
10
19
Oliver Trolt. (2015- ) Attorney. An outspoken critic of the flimsy scholarship which accompanies most Xyr studies. During his life, Mr. Trolt always insisted on hard evidence to back up any conclusion. As a result, his writing is sparse.
OLIVER TROLT VERSION:
SEGMENT: PAGE:
4
15
Edmund Blackwell, a\k\a Crow. (2012- ) A pathologist, attorney, and former coroner, Dr. Blackwell pursued Xyr studies as an avocation.
CROW'S VERSION:
SEGMENT:
4
5
6
7
21
8
9
10
14
17
12
18
19
Zeke Ringo.
ZEKE RINGO VERSION:
All segments are read in consecutive order, beginning to end.