SEGMENT TWENTY THREE
XYR'S JOURNAL
An open panel, marked with a distinctive pattern of cobwebs and spirals led into the launch arena. I entered under the guise of what a former teacher had called an invisibility spell. Actually it was more of a kind of sleight of physics, keeping me one second in the future. The sounds and light of the scene caught up to me, in a fuzzy, sort of after the fact manner, but I could not be detected.
I was not in the now.
Silently, I congratulated myself when Schiller came in to view. I suspected that he was working for the government, from the things left unsaid in his recent articles.
Then a mage entered the room. It was Leicester Gunyen, also known as the Knight of Ten Thousand Years, dressed in a hooded cape, decorated with runes. He carried a twisted staff. His entire face looked as if it had been tattooed with wrinkles; the prominent nose, even the eyelids and ear lobes. The wrinkles burned with the intensity of tiger stripes.
I cursed Leicester Gunyen's already cursed eyes. Although he was best known as a cartographer of mystic spheres, he might be able to penetrate my cloak of invisibility. I took refuge behind a strange craft which rested on gantry, surrounded by machinery.
Gunyen stood beside Schiller, then he conjured an apple out of mid air. "Dr. Schiller, shall we begin? I mean, shall we go back to the real beginning, the beginning of time– when mankind traded paradise for knowledge."
Gunyen bit into the apple, and somehow managed to remove a chunk of it, despite his having no apparent teeth, nor even anything that might be called a mouth. "We can reverse that sorry bargain." When he handed the bitten apple to August Schiller, its skin was whole again, unbroken.
August Schiller rubbed his eyes, profoundly weary. "I don't want to hear any more about Valkynne. It makes me crazy. I designed this ship for unselfish reasons– to travel to other dimensions in search of new food sources, new mineral wealth… to help all people… not to seek godhood."
A live snake wound itself around Leicester Gunyen's forearm. "Ever the man of conscience," said Gunyen. "Why not do something for yourself, just once? Besides, should you find the paradise we seek, it will include the fulfillment of your every desire, even new food sources." The wet skin of the apple glistened. "Think of how many here are starving. Think of the endless, ravaging hungers."
The resemblance between Gunyen and Schiller was uncanny. It looked as if old age were debating with the temptations of youth.

The chief mechanic turned to August Schiller and said, "There won't be any more delays. All the problems suddenly cleared up, just like magic. Are you ready Dr. Schiller?"
Schiller turned to Gunyen. "Now that the ship is done, I don't know what to do."
"Just remember. If you find Valkynne, you owe it all to me. Don't forget all of my help."
Schiller climbed into the craft. After a moment of preparation, he started the engines.
I was still lurking by the craft, afraid to step out into the path of Gunyen's gaze. The ship engaged in departure mode, but I dared not move. A dimensional portal opened up across the nose, undulating like an iris. A jet stream of flowing rainbows poured out of the exhaust.
The tug of the lift off caught me; sucked me through my spare second, into whatever was happening in the present.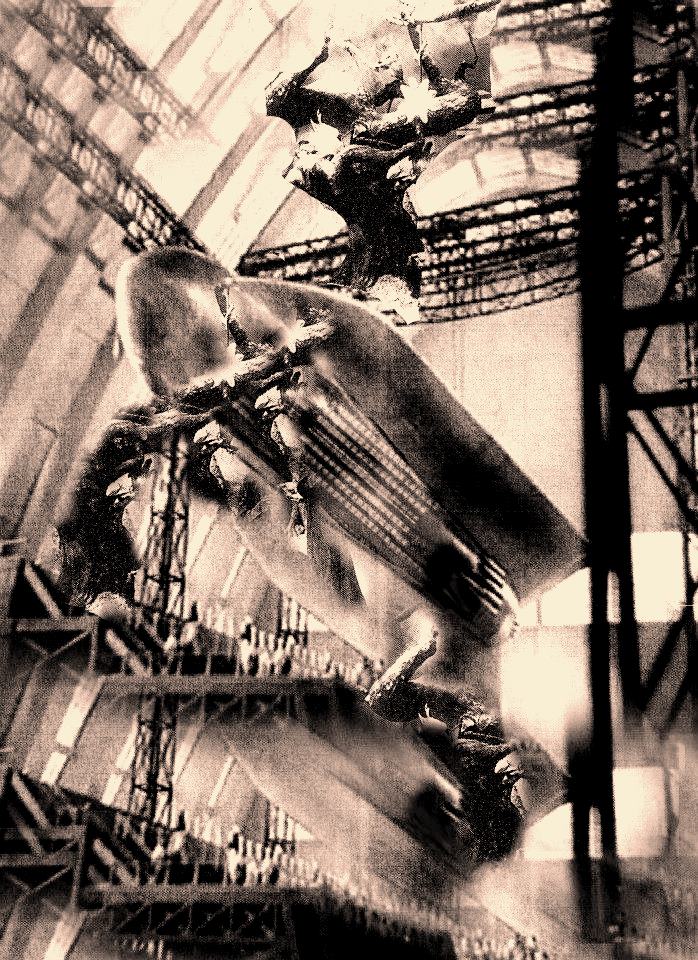 August Schiller's craft spun through multiple realities, ripping dimensions, leaving behind a trail of flowing rainbows. I was caught in his slipstream, and dragged through crashing probability waves.
I managed to tumble free, just before the disaster. I dislodged into a borderline dimension, and from this vantage point, watched the ship sink into a vortex of destroyed time and space. The trail of rainbows wound through cracked and swirling planes of a universe broken into possibilities.
ARTHUR VERTINSKY, LESLIE BLAKE, AND VERA DENADA ALL AGREE THAT SEGMENT TWENTY FOUR FOLLOWS
TO CONTINUE IN ORDINARY SEQUENCE, FOLLOWING NUMERICAL ORDER, FOR ZEKE RINGO'S ULTIMATE VERSION, NEXT TURN TO SEGMENT TWENTY FOUR