SEGMENT TWELVE
XYR'S JOURNAL
I stopped to rest in a crystallized dimension. At first it presented itself as a jungle of living jewels– appealing to the eye with its spectacle and symmetry, its endless possibilities for the study of optics. Here, organic carbons had been distilled to their densest forms. It was hard to tell whether I had encountered actual life, or a semblance of activity caused by light playing on cross reflecting surfaces. Then a flock of alexandrite bats took flight, changing from purple to green as they winged across the sky. Ruby baboons played scatological games with rainbows they excreted, high above in the diamond trees. I laughed at their antics.
I was safe here, or so I thought.
He was gone.
Sitting on an emerald boulder, leaning back against a sapphire cliff, chin resting in hand, I caught a pulse of regularity hidden within the chaos. The entire environment was a computing mechanism that utilized light as its processing medium. Frequency shifts in the wave peaks provided the binary code. There were answers to countless questions, playing off the mirrored surfaces around me. I had only to reflect on them.
It troubled me. This place was paradise, at least an hour's worth, or more. I hadn't even begun to tap the possibilities. Yet even here, I was pestered by inchoate worries. What brought on this sudden despondency?
Was I worried because it is part of human nature to resist happiness? Part of human weakness?
I thought I knew better.
But perhaps I had doubts I had hidden from myself.
There's insecurity hidden behind all arrogance. I tried not to think about it, but sometimes I feared I was only a freak.
I jumped off the boulder, suddenly full of the energy that comes from resolve, though I was entirely undecided as to what action to take next.
As if externalizing my sudden, dark mood, a storm began to gather in the heavens. Lightning bolts stabbed downward.
Suddenly a huge face began to emerge from the wall of the cliff. A long nose glittered as it took shape. A striped pattern of carbuncles erupted on the cheeks and chin.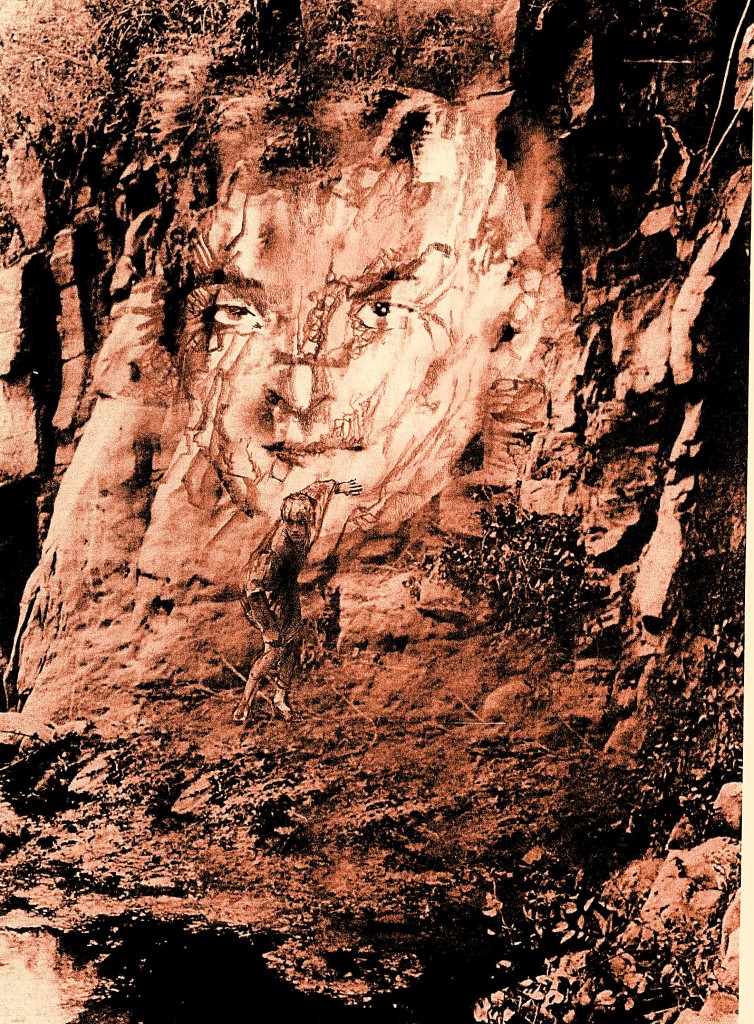 A volcano stretched out of the cliff wall. It erupted in a brief and sudden explosion that sounded more like the report of a gun. A sulfurous smell swept through the air, followed by a spurt of lava. I could read the trajectory on a line of smoke left hanging in the air, which ended on a hot and painful point on my left shoulder, just below the clavicle.
I regarded the burning wound with detachment, as if it were a painting of a wound, rather than something that might leave me crippled.
Had the process of shifting into Valkynne brought me to a new level of consciousness? Did my physical well-being no longer matter? If so, here was a paradise indeed. But instead of appreciating the achievement, I regarded my indifference with an equal indifference. On an intellectual level, indifference to indifference became more troubling than the wound.
What a fool I was! The wound was a symbol of some kind. A warning, just as my ambivalence was a warning. I was under attack, but by whom– other than myself?
The striped and carbuncled face grew huge, reflecting the night and stars into its mirrored folds, until the darkness was everywhere.
ACCORDING TO CROW, THE READER SHOULD TURN NEXT TO SEGMENT EIGHTEEN.
TO CONTINUE IN ORDINARY SEQUENCE, FOLLOWING NUMERICAL ORDER, FOR ZEKE RINGO'S ULTIMATE VERSION, NEXT TURN TO SEGMENT THIRTEEN